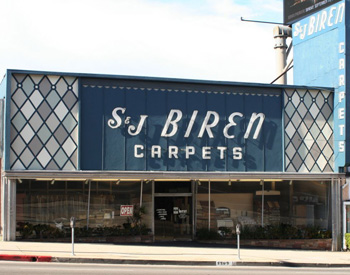 S & J Biren Floor Coverings was opened in 1948 by two brothers, Samuel and John Biren, who relocated to Los Angeles from Minneapolis after having served in the Army Air Corps in World War II. The brothers were looking to go into business together and decided on floor coverings, opening their small storefront on Pico Boulevard in West Los Angeles.
Within two years they moved to larger quarters where the store has remained a fixture in the community for over 60 years. Doing everything from tract homes in the early years, to entire office buildings and other prestigious commercial installations, S & J Biren serves the general public and also does extensive work with the architect and design community. The store offers flooring for both residential and commercial projects to serve all budgets, including, but not limited to, a focus on high end residential projects.
S & J Biren's goal has always been to provide outstanding expertise, unparalleled quality, and professionalism, as well as offering one of the widest product selections in the city. The staff is trained to find a solution for every customer's needs. The tradition started by Sam and John Biren continues today in the second generation with Evan and Eric Biren, the sons of Sam and John respectively, taking the helm. John Biren continued to come in every morning into his early 90's to offer his experience and wisdom to the staff at S & J Biren. Regrettably he passed away in January 2014, just shy of his 94th Birthday. He was a pillar in the industry and community and will be sorely missed.
Click on any image below to see a larger version.